The Literary Gift Guide
For Bibliophiles and Design Lovers
The holiday season is a perfect time to consider the most thoughtful gift in the world: a customized book set made just for the recipient. For those who are shopping for a bibliophile this year (or simply looking to add some beauty to their own bookshelves), we have curated a gift guide full of show stopping offerings. Here's some of our personal favorites: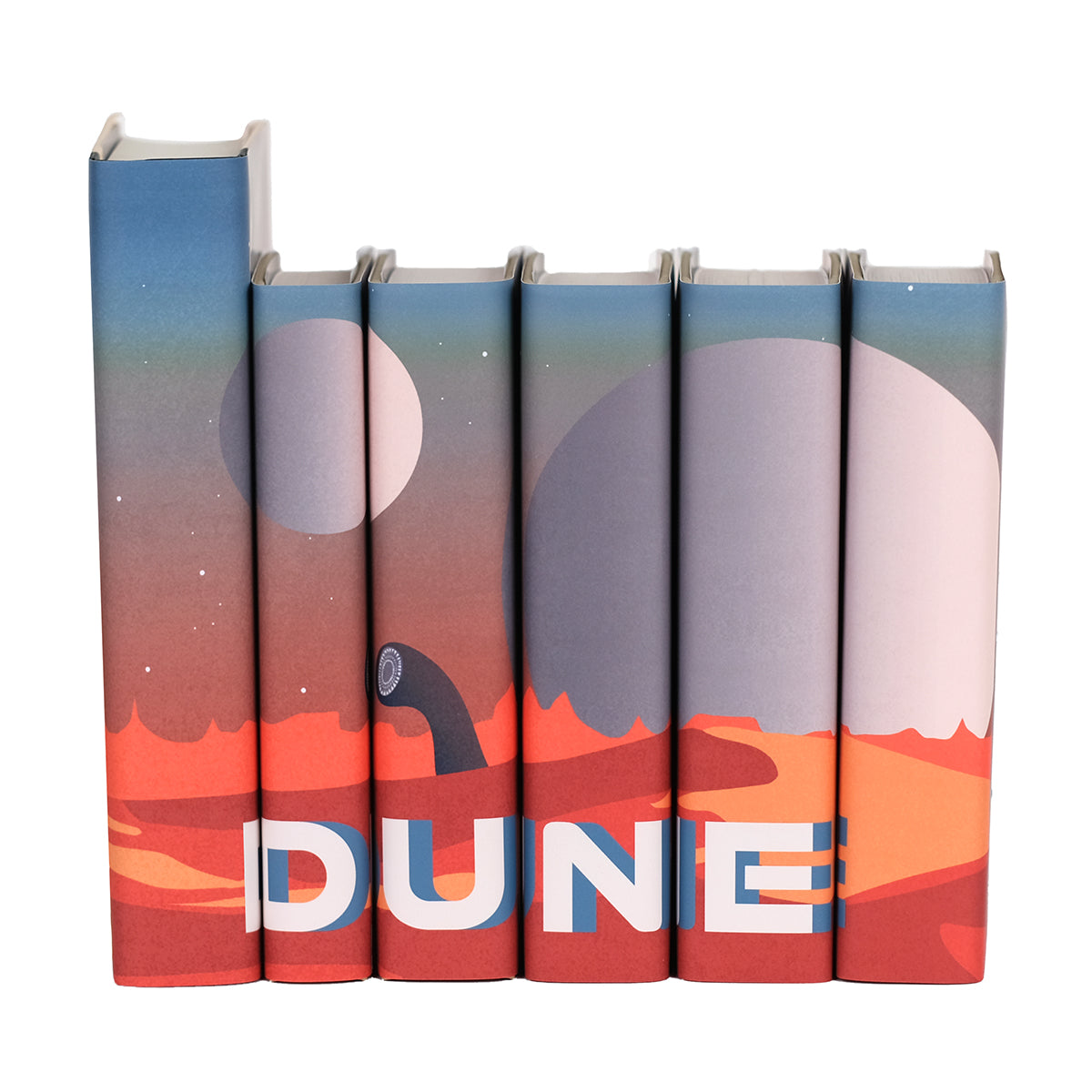 Adventure awaits with this custom Dune 6 Book Sets. Our custom jackets will make you feel like you're a part of Frank Herbert's renowned science fiction saga. We offer multiple jacket designs, all inspired by the novels. This set is a perfect gift for any sci-fi fanatic, and would look amazing on the shelves.
These colorful volumes are beautifully crafted books.  With ivory paper, meticulously gold-stamped designs, and gilded pages edges, they are certain to delight. These masterpieces have withstood the test of time, captivating readers across centuries and continents. From The Iliad's epic adventures to Romeo and Juliet's poetic brilliance, each volume represents an irreplaceable contribution to the literary canon. This is the ultimate gift for someone who truly appreciates classic literature. 
The gift of every Potterhead's dreams! J. K. Rowling's record-breaking Harry Potter series has sold over 500 million copies worldwide and has been translated into 80 languages. This famed children's series has inspired generations of young readers since the first book was published in 1997 as well as the runaway successful film adaptations. We offer customization on our complete range of Harry Potter designs so you can commission an exceptional gift, or truly make a set one-of-a-kind.
Juniper Books is based in Colorado, home to some of the world's most beautiful mountains. Our mountaineering set may be an ideal gift for someone who has a love for the mountains and adventure. These custom jackets feature an original illustration of an alpine climber silhouetted against snow capped peaks.
Each book, published by Mountaineers Books and Villard Books, is a true classic in the mountaineering world and a compelling read for any adventurer.
Speaking of adventure, if you're looking for inspiration for the perfect expedition, you've found it. The Adventure set is a comprehensive visual history of surfing, cycling, mountaineering, incredible skiing, and snowboarding destinations, and other life-changing adventures. Each volume features hundreds of photographs, illustrations, and essays capturing the spirit and energy of different adventures, traditions, and cultures.
You can dig into the full, comprehensive version of our gift guide here. If you're looking for a truly life changing gift this holiday season, you can also explore our custom library service offerings here and potentially get started on transforming your home with an incredible library. Happy holidays and happy customizing!